Small Businesses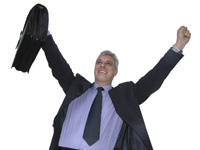 "I Will Show You How to be a True Business Owner and
Not an Employee any More!"
The Sales Pipeline is the back bone of your business. It drives everything - production, hiring, purchasing and lots more learn how to keep it full at all times!
You're the owner of a small business yet you are still an employee! The good news is business is growing the bad news you have no personal life! Performing all of the sales functions you did when you first started your business. This all can change now by putting in standardized, practical, systematic sales processes, methods and procedures like the big companies at a fraction of the cost!
My program will teach you:

How to Fill Your Pipeline with New Buyers and Double Your Sales This Year

Here's how the program works:

· Total of 4 (four) - 2 (two) hour face-to-face consulting sessions to include follow-up session 1 month after you complete the program to monitor your progress.

· Open email correspondence for the length of the program.
You will receive:

· Step-by-step analysis and evaluation of your current sales cycle to determine what works and what areas need improvement to close more sales.

· Analysis of your current sales forecasting and sales pipeline reporting methodology with recommendations detailing your strengths and areas that need improvement .

· Written Sales Cycle, Sales Forecasting Guidelines, Sales Pipeline Report with User Guides and Training.
You will have measurable metrics, sales forecasting guidelines and a weekly sales pipeline report to track what deals are going to close and when. No more "Crystal Ball" forecasting in your forecast just show you the money!
I'll show you how your business can make you money even though you are not there! Monitoring your sales is as easy as signing on to your email!
Contact me today at 201-727-9368 to get your FREE Marketing and Sales Analysis (a $200 Value). Learn your strengths and areas that need improvement so you can start closing more business, generating more revenue and have more job satisfaction immediately!
Just Released!- My new eBook "How Standardizing Your Sales Processes Using Contact Management Software Can Increase Your Sales Revenues By 50% or More in Less than One Year! This dynamic eBook discusses how having a standardized Sales Cycle, Sales Forecasting Guidelines and a Weekly Sales Pipeline Report will increase your sales productivity, revenues and give you better, easy-to-use and accurate business sales intelligence. It's yours FREE by calling me at 201-727-9368.