"Discover The Tools That Can Lead Your Children Down The Right Path And Help Them Avoid The Pitfalls Of Modern Society!"
"Learn How To Bring Balance Into The Lives Of Your Children To Help Them Thrive And Grow Into The Healthiest People They Can Be!"
Try These Powerful Exercises To Help Children, Parents, and Teachers – Risk Free!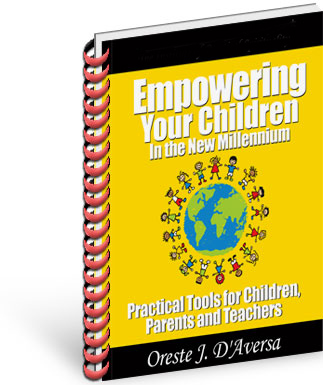 "We enjoyed your presentation to our organization and were able to benefit from the practical tools, techniques and exercises to mange stress that can be used by the children, parents and teachers."

Karen Rae Steele, Bergen County Technical High School
Guidance Program Manager
Bergen County Professional Counselors' Association, President

Dear Loving Parent,

Are you concerned about how you children are going to grow up in the new millennium? Do you worry about how the pressures and dangers of the modern world will effect your children's development? Does the world simply seem like a harder place to grow up in today than it did when you were a child?

If so, you are not alone. Raising children today is more challenging than ever before. Parents are working longer and longer hours. Modern values are constantly shifting and changing. Children have more access to information – both positive and negative - than at any other time in history.

"As a retired school teacher I realize the importance and effectiveness of this practical guide to living a healthy, happy, and successful life.
Everyone, young and old, can profit."

The saying "It takes a village to raise a child" is just as true today as it has always been – but more often than not that village is shrinking and it's members are under more pressure than ever before.

Yet, we all still need to play our part. Our children need to learn. Parents need to support their education and teachers need to help show them not only facts and figures, but also the value systems that will be their anchor as they grow up into solid adult citizens.

That's why I'd like to take the chance to tell you about an incredible book I've recently written, Empowering Your Children In The New Millennium : Practical Tools For Students, Parents and Teachers.

This book is designed to use the potent power of spirituality to help protect, educate and safeguard our most precious commodity – our children.

"Mr. D'Aversa delivers an important message in a captivating style
to students, parents and staff."

Ted Fattoross, CEO/President
TedSpeak.com - Educational Services - Safe School Foundation
* * * * * * * * * * * * * * * * * * * * * * * * * * * * * * * * * * * * * * * * * * * * * *
"Empowering Your Children
In the New Millennium:
Practical Tools for Children, Parents and Teachers"
Mini - Course
Please fill out this form to get your free Mini-Course!
Privacy policy:
I will never share your email address with anyone!
* * * * * * * * * * * * * * * * * * * * * * * * * * * * * * * * * * * * * * * * * * * * * *
Spirituality, Harmony and Balance Are the Keys To Truly Empowering Our Children

In this day and age, people are often wonder if spirituality can work the sets of values as their families and friends.

At times it can seem a little bit old fashioned.

But I've seen first hand how true spirituality – the positive values of family, community and honesty are as helpful and nurturing today as they have been for thousands of years.

My name is Oreste "Rusty" D'Aversa and I've seen first hand the rock solid positive benefits that true spirituality can bring to anyone's life – no matter how young or old they may be.

I've spent much of my life in the business world, and now as a business owner so I understand how the real world works. But I'm also a stress management consultant and ordained as an Interfaith Minister by The New Seminary in New York City. I am also the founder of The Institute for Practical Spirituality (www.PracticeSpirituality.com)

In that capacity I've learned that all human beings, children and adults, rich and poor, have four main components that must constantly be in balance if we are to achieve true happiness and success:

l The Physical

l The Mental

l The Emotional

l The Spiritual

All of the exercises in Empowering Your Children In The New Millennium: Practical Tools For Students, Parents and Teachers are designed to bring these four essential elements into line while celebrating the diversity of any religious background.

Simple Tools and Exercises to
Empower Your Children
And Bring Them Inner Harmony

When I wrote, Empowering Your Children In The New Millennium: Practical Tools For Students, Parents and Teachers I knew that it was important to create exercises that children could realistically understand in order to help them find their crucial life balance.

That's why I designed exercises for children that are simple to master, but that can have a profound positive impact on their development including:

l Ways to Breathe

l How to Relax your Mind

l Meditation

l How to use Visualization to Reduce Stress

l Connecting with Nature

l Yoga

l Positive Physical Exercise

Taken together these exercises can be the foundation of a positive childhood filled with true spiritual harmony.

Parents and Teachers Need To Work Together
To Help Teach Our Children Well

Our children's sense of the world and their place in it is not only formed by what they do, but by how they perceive their parents and teachers.

We are their biggest influence and how we interact with them has a dramatic influence on their spirituality and life balance.

That's why I've included a series of exercises for both parents and teachers.

The parental exercises are designed to help you achieve the type of life balance and spiritual harmony that you are trying to impart in your children – and they take into account the pressures you face in the modern world.

The key exercises for parents include:

l The Benefits of Walking

l Proper Diet

l Stress Management

l Meditation

l Taking Time for Yourself

l Getting Involved in your Children's Education and Activities

l The Parent Partnership Program

The exercises for teachers are designed to help educators connect with children and help them understand the importance of working together, building better values and helping others.

These educator focused exercises include:

l How to help children help themselves

l Showing children how they can help their families

l Teaching children how to help animals and nature

l Getting children involved in the community and their environment

l Demonstrating how they can help their school

l Working with children to help their country

l Helping the planet as a whole

Taken as a whole these three sets of exercises – for children, parents and teachers – can work in harmony to help give our children a better life and a more spiritual values based future.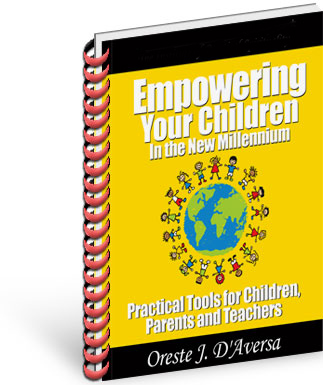 Outside United States Please Call for Postage Costs
Try Empowering Your Children In The New Millennium: Practical Tools For Students, Parents and Teachers
And See If It Is Right For You
I truly believe that these exercises and practical tools can help nearly any family. But, I understand that you know your child and your situation better than anyone.

That's why I want to encourage you to try Empowering Your Children In The New Millennium: Practical Tools For Students, Parents and Teachers and see if it is right for you.

Simply order, Empowering Your Children In The New Millennium: Practical Tools For Students, Parents and Teachers this 166 page book today for only $19.97 and incorporate some of the exercises into your daily life. Buy now before the price increase!

If, after a month you don't think that this incredible book is helping, simply mail it back to me. I'll refund your money with my good will.

It's the least I can do to help you raise your children right in this challenging world.
Order Empowering Your Children In The New Millennium: Practical Tools For Students, Parents and Teachers Today
Children are our most precious resource – but they grow up much more quickly than we ever expect. That is even truer in this modern age.

That's why it's important to help them achieve positive modern values and spiritual balance as soon as possible.

Every day you put off learning these exercises to help their mind, body and spirit is a day that you could have been helping your children grow.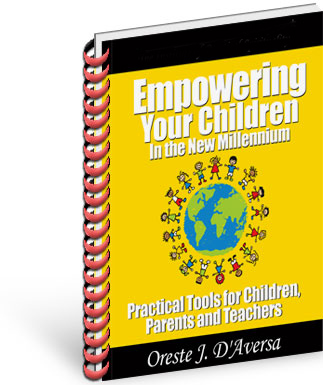 Outside United States Please Call for Postage Costs
I urge you to order Empowering Your Children In The New Millennium: Practical Tools For Students, Parents and Teachers and prepare your children for a better tomorrow.

Services available in the areas of:

- Keynote Speaking

- Workshops

- Consulting

- Coaching

Call 1-201-483-8660 for more information or go to www.OresteDAversa.com for other product, services and programs.

Thank you,

Oreste J. D'Aversa

Oreste "Rusty" D'Aversa

P.S. I am so sure that you will find my books to be the best investment you can make towards increasing your networking skills that I offer a 30 day money-back guarantee . If you are not satisfied, for any reason, simply return the merchandise to me post-paid within 30 days and I will promptly refund your purchase price.

Paramus, NJ 07652

Direct: 201-483-8660 FAX: 201-483-7971

eMail: OresteDAversa@att.net

www.OresteDaversa.com

Copyright © 2007. www.EmpoweringYourChildren.com